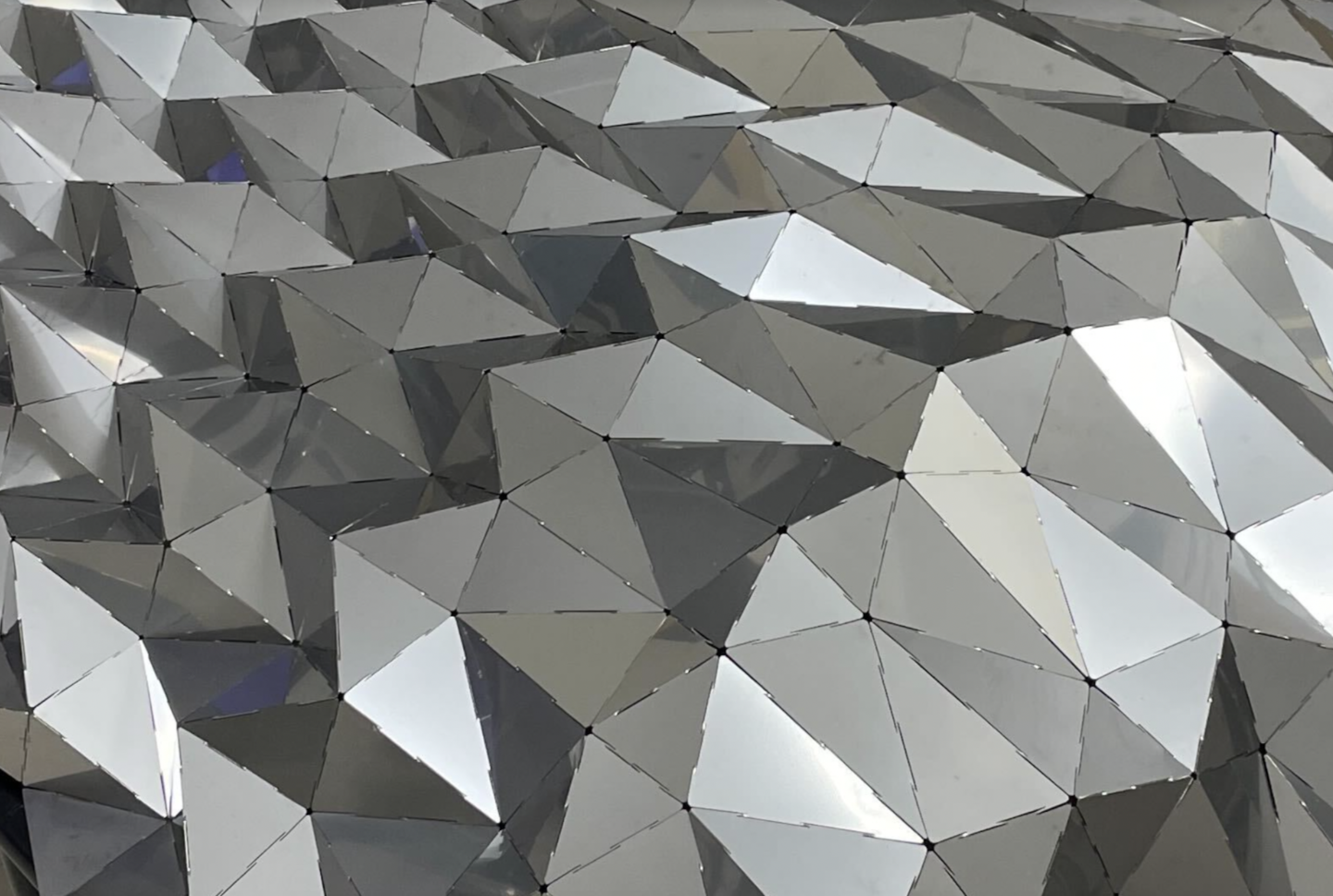 (3)現代の製造業にメタマテリアルが必要な理由
(3) Why Today's Manufacturing Industry Needs Metamaterials.
Nature Architectsの技術ブログでは弊社に関連する技術領域を中心として、あゆるものづくり業界に役立つ情報をシェアすることを目的にしています。 初回は3回連続で代表の大嶋がメタマテリアルにまつわる3つの重要なトピックを紹介します。
Nature Architects' technical blog aims to share useful information for the manufacturing industry, focusing on technical areas related to our company. In this first installment of a three-part series, our representative, Mr. Oshima, will introduce three important topics related to metamaterials.
大嶋泰介
Taisuke Ohshima
2022,08,10
2022,08,10
この記事の概要
この記事では冒頭で「複雑化し続ける現代の製造業の課題」について述べその後、それを解決するための「メタマテリアルを活用した設計支援」の考え方について解説します。本記事を通して現代の製造業でなぜメタマテリアルの設計が必要なのかを具体的に示します。
複雑化し続ける現代の製造業の課題
現代の製造業は設計/解析/製造が分業化され、たくさんの部品や材料を組み立て複合化し競争力のある製品を生み出しています。設計/製造が複雑になるにつれて設計は特定のエンジニア/設計者に属人化し、新しく競争力のある新規設計が難しくなってきています。
こうした複雑化し続ける設計/製造をソフトウェアを通じて効率的にハンドリングし、属人化することなく共有する「複雑さに対抗する手段」としての設計DX、設計支援が求められています。
しかし、考えてみると複雑になり続けるものづくりには物理的/情報的な限界が訪れることは目に見えています。 物理的にはこの2年間のコロナウィルスで露呈したのは製造業のサプライチェーンの脆弱さが顕著な事例です。多くの製品の製造拠点はグローバルに点在しているために、どこかの工場が停止すれば製品の製造もストップしてしまう事例は少なくありませんでした。この例は、組み立てが複雑すぎる製品の物理的な脆弱さをよく示しています。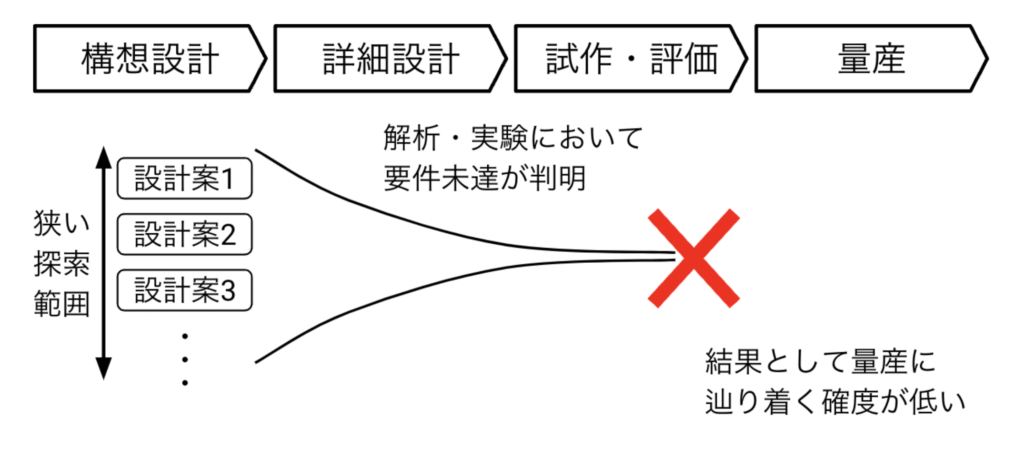 情報的な観点では膨大な部品組み立てを前提とした設計(情報処理)の限界が考えられます。複雑な組み立てを必要とする製品の部品(コンポーネント)間の関係をモデル化し効率よく設計するためにはモデルベースドデザイン(MBD)が有効とされています。しかし、MBDでは根本的に新しい設計を考える場合は「どのように製品を構成する」かという上位概念から、具体的な設計に落とし込む構想設計→詳細設計のフローサポートすることは困難です。したがって、従来設計の流用設計ではない根本的に新しく競争力のある製品を生み出すための構想設計→詳細設計は今だに属人的で多くの時間と資本を必要としています。
弊社のメタマテリアルを活用した設計支援の価値
一方、我々が展開するメタマテリアルのエッセンスを取り入れた設計は「複雑さに対抗する設計」ではなく「複雑にすることなく機能を生み出す設計」と考えることができます。前回の記事(2)で紹介した我々の3つの設計事例はどれも、新しい組み立てや製造方法を必要とすることなく、設計を変更し新しく提案することで高付加価値な機能を生み出しています。

振動増幅による省電力化(コスト削減)/体感向上
動く部品の組み立て削減による高品質化と製造コスト効率向上
材料代替設計を通した高機能化/低コスト化/リサイクル性向上/意匠性向上
これら①〜③は全てコストを大幅に上げることなく(時にコスト効率を上げながら)、新たに大きな付加価値を増やしている設計であることがわかります。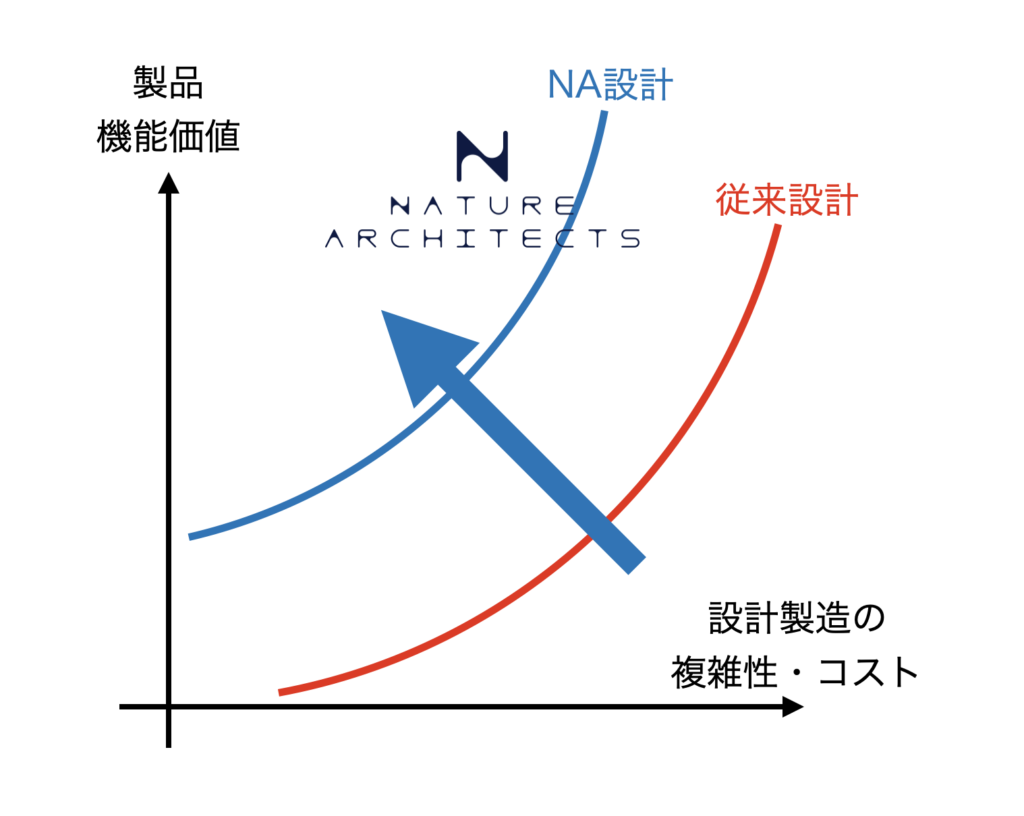 Nature Architectsは設計/製造のコストや複雑さと機能/付加価値のトレードオフを一部解消し、複雑化し続けるものづくりを超越し新しい設計を提案し続けていきます。こうした取り組みは製造業の「設計可能な範囲を拡張し新たな機能をモノの中に組み込む行為」であり、我々の社会における役割(ミッション)であると自負しています。このミッションを遂行し続けることで我々は人々の新しいインフラ、ライフスタイルや文化を創出する製品をメタマテリアルの設計から生み出し続けていきます。
Summary of this article
This article begins with a discussion of the "challenges of today's increasingly complex manufacturing industry," followed by an explanation of the concept of "design support using metamaterials" to solve these challenges. This article will show why metamaterials design is necessary for today's manufacturing industry in concrete terms.
Challenges in today's increasingly complex manufacturing industry
Modern manufacturing is a complex industry in which design/analysis/manufacturing is divided into separate processes, and many components and materials are assembled and combined to create competitive products. As design/manufacturing becomes more complex, the design process becomes more and more proprietary to a specific engineer/designer, making it difficult to create new and competitive designs.
There is a need for design DX and design support as a "means to tackle complexity" to efficiently handle and share these increasingly complex designs/manufacturing through software without making them proprietary.
However, when we think about it, it is obvious that physical/information limitations will come to manufacturing, which continues to become more and more complex. Physically, what the coronavirus has exposed over the past two years is a glaring example of the fragility of the manufacturing supply chain. Because the manufacturing sites for many products are scattered globally, there were many instances where if a plant somewhere shut down, the manufacturing of the product would also stop. This example well illustrates the physical vulnerability of a product whose assembly is too complex.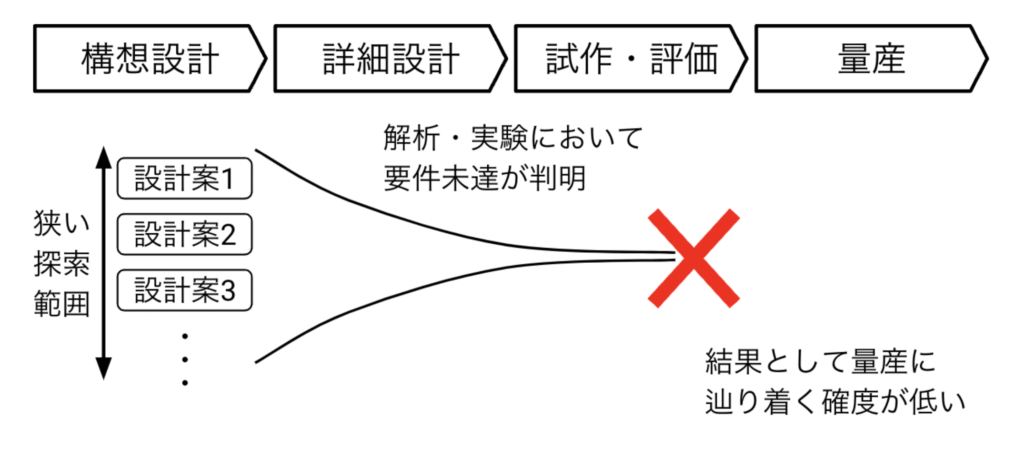 From an informational point of view, the limitations of a design (information processing) that assumes the assembly of a vast number of components can be considered. Model-Based Design (MBD) is considered effective for modeling and efficiently designing the relationships among parts (components) of a product that requires complex assembly. However, when considering a fundamentally new design, it is difficult for MBD to support the flow from conceptual design to detailed design, which starts from the high-level concept of "how to configure the product" and then leads to a concrete design. Therefore, the conceptual design → detailed design process to create a fundamentally new and competitive product, which is not a reuse of a conventional design, is still a very human process that requires a lot of time and costs.
The value of our metamaterials-based design support
On the other hand, our design with the essence of metamaterials can be thought of as "designing for function without complexity" rather than "designing against complexity. All three of our design examples presented in previous article (2) are examples of designs that have been developed in such a way that new assembly and manufacturing methods are All of our three design examples described in [Previous Article (2)]( "Previous Article (2)") create high value-added functions by changing the design and proposing new ones without requiring new assembly or manufacturing methods.

power saving (cost reduction)/improved experience through vibration amplification
higher quality and improved manufacturing cost efficiency through reduced assembly of moving parts
higher functionality/cost reduction/recyclability/improved design through material substitution design
It can be seen that all of these (1) to (3) are designs that add significant new value without significantly increasing cost (sometimes while increasing cost efficiency).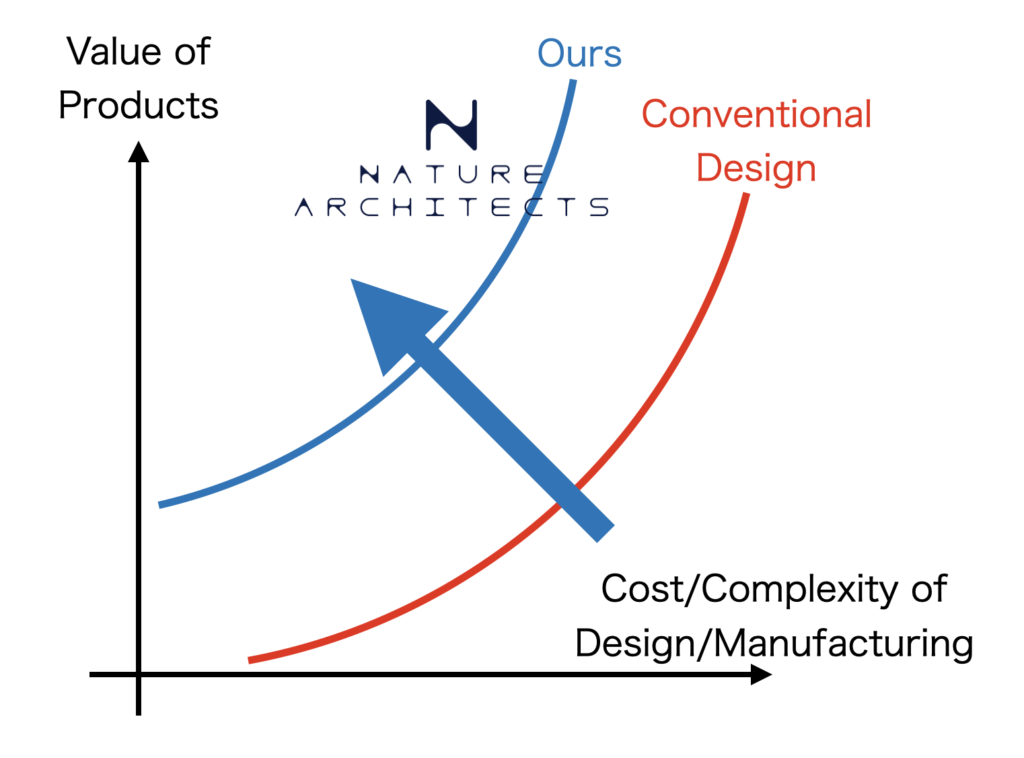 Nature Architects will continue to propose alternative designs that today's manufacturing needs complex assembly, partially eliminating the trade-off between cost and complexity of design/manufacturing and function/value added. We are proud of our role (mission) in society, which is to expand the range of design possibilities and incorporate new functions into products**. By continuing to carry out this mission, we will continue to create products that create new infrastructures, lifestyles, and cultures for people through the design of metamaterials.
Nature Architects株式会社
Nature Architects, Inc.