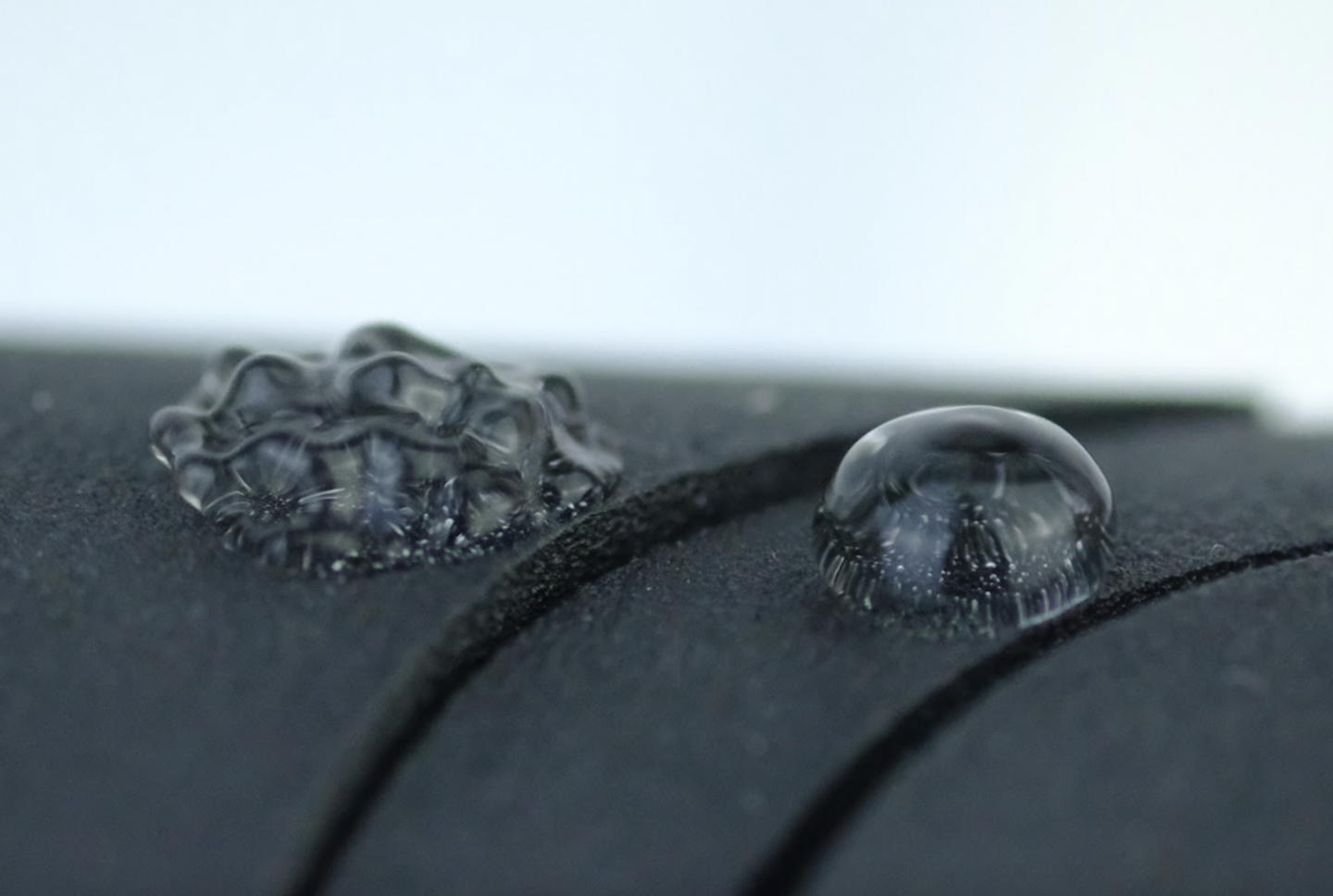 (2)現代の製造業にメタマテリアルが必要な理由
(2)Why Today's Manufacturing Industry Needs Metamaterials
Nature Architectsの技術ブログでは弊社に関連する技術領域を中心として、あゆるものづくり業界に役立つ情報をシェアすることを目的にしています。 初回は3回連続で代表の大嶋がメタマテリアルにまつわる3つの重要なトピックを紹介します。
Nature Architects' technical blog aims to share useful information for the manufacturing industry, focusing on technical areas related to our company. In this first installment of a three-part series, our representative, Mr. Oshima, will introduce three important topics related to metamaterials.
大嶋泰介
Taisuke Ohshima
2022,08,10
2022,08,10
この記事の概要
この記事では今の製造業にすぐにでも適応可能な次の3つの実用的なメタマテリアルの設計事例を紹介します。
① 振動制御によるハプティックデバイスの筐体設計
② 可動部品の組み立て削減設計
③ 材料代替設計
メタマテリアル研究と製造業におけるメタマテリアルの違い
メタマテリアル(metamaterial)とグーグル検索すると、複雑怪奇なカタチによって生み出される様々な物理的機能に関する論文がヒットします。これらの発見/発明の背景には3Dプリンタをはじめとした3Dデータを瞬時に物質化する工作機械が各大学や研究機関のラボに普及し研究者がクイックに設計/解析、試作/実験を行う環境が整備されたことが大きく影響しています。しかし、このようなアカデミックなメタマテリアルを産業応用する場合には当然3Dプリンタが必要となるため、殆どの場合で量産ができません(製造コストが高すぎるため)。一方、先ほど紹介した穴をあけるだけのメタマテリアルは特殊な製造設備は必要なく、従来の製造方法で量産が可能です。実はメタマテリアルには特殊な製造設備なしで量産可能なものも数多く存在するのです。しかし、シンプルな構造でもほとんどの場合は繊細な設計された構造を膨大に設計検討しなければ所望の機能を得ることができません。
Nature Architectsでは従来の製造設備で量産が見込まれるメタマテリアルを製造制約、コスト、生み出す機能の全ての制約と目的を効果的に膨大な数の設計を検討し提案します。(たまに3Dプリンタを活用した先進的な設計も行います)
我々のメタマテリアル設計は振動遮断、振動伝達、音響遮断、変形制御による動く部品の組み立て削減、をはじめとしたさまざまな物理現象を扱っています。次に具体的に3つの設計事例を紹介します。
① 振動制御によるハプティックデバイスの筐体設計
従来の振動子を筐体に固定した設計では振動が筐体全体に伝わり、効率よく振動をユーザーに届けることができませんでした。弊社の設計によって筐体に振動増幅構造を組み込み、特定の部位のみを振動させることによって振動を増幅してユーザーに届けることが可能になります。そのため、
アクチュエータの消費電力を半分以下に抑える*
振動による体感の向上
電池の小型化、アクチュエータを低コスト化
などが見込めます。こうした付加価値を特殊な製造や部品組み立てを用いることなく、筐体設計を変更し従来の製造設備を変更することなく実現することができます。
② 可動部品の組み立て削減
従来製品では10パーツ以上の組み立てを必要とするジョイスティッを射出成形を前提としても3〜4パーツに組み立てを大幅に削減し、耐久性向上、精度向上、製造コスト効率の向上を狙った設計を提案しました。
③ 材料代替設計
従来はゴムやエラストマーを必要としていた柔軟性をプラスチックで代替する設計を行います。具体的にはオフィスチェアなどのクッション部分を樹脂一体のハニカムで構築し体圧を効率よく分散する柔軟性を実現しました。材料を適切に代替することで、低コスト化、成形性向上による意匠性の向上、リサイクル性の向上、軽量化などの付加価値を生み出すことが可能です。
Summary of this article
This article presents the following three practical metamaterial design examples that can be applied to today's manufacturing industry.
(1) Haptic device housing design with vibration control
(2) Design for reduced assembly of moving parts
(3) Material substitution design
Differences between metamaterials research and metamaterials in manufacturing
A Google search for the word "metamaterial" shows a number of papers on the various physical functions produced by complex geometries. The background of these discoveries/inventions is largely due to the spread of 3D printers and other machine tools that instantly materialize 3D data in laboratories of universities and research institutes, creating an environment where researchers can quickly design/analyze and prototype/experiment. However, when such academic metamaterials are used in industrial applications, 3D printers are naturally required, and in most cases, mass production is not possible (because the manufacturing cost is too high). On the other hand, the metamaterials introduced above, which require only holes, do not require special manufacturing equipment and can be mass-produced using conventional manufacturing methods. In fact, there are many metamaterials that can be mass-produced without special manufacturing equipment. However, in most cases, even simple structures cannot achieve the desired functionality without extensive design studies of delicately designed structures.
Nature Architects can propose metamaterials that can be mass-produced using conventional manufacturing facilities, and effectively design a vast number of metamaterials to meet all the constraints and objectives of manufacturing, cost, and the functionality they will produce. (Occasionally, we also offer advanced designs utilizing 3D printers.)
Our metamaterial designs address a variety of physical properties, including vibration isolation, vibration transmission, acoustic isolation, and reduction of assembly of moving parts through controlled deformation. The following are three specific design examples.
① Haptic device housing design with vibration control
Conventional designs with the transducer fixed to the enclosure transmit vibration throughout the entire enclosure, making it impossible to efficiently deliver vibration to the user. Our design incorporates a vibration amplification structure into the housing, which amplifies the vibration by vibrating only certain parts of the housing, allowing the vibration to be amplified and delivered to the user. Therefore, it is possible to
Reduce the power consumption of the actuator to less than half*.
Improvement of the user's experience due to vibration
Battery downsizing and actuator cost reduction
The following are expected to be added value to the system. Such added value can be realized without using special manufacturing or parts assembly, without changing the housing design, and without changing conventional manufacturing facilities.
2 Reduction in the assembly of moving parts
We proposed a design that aimed to improve durability, accuracy, and manufacturing cost efficiency by drastically reducing the assembly of joysticks, which require more than 10 parts in conventional products, to 3 to 4 parts even assuming injection molding.
3) Material substitution design
We developed that use plastics to replace flexibility that previously required rubber or elastomers. Specifically, the cushions of office chairs and other products are constructed with a honeycomb of plastic to achieve the flexibility that disperses body pressure efficiently. By appropriately substituting materials, it is possible to create added value such as lower cost, improved design through better design possibility, improved recyclability, and lighter weight.

Nature Architects株式会社
Nature Architects, Inc.